Hotels
A complete range for your breakfasts : jams, honey and chocolate spread
Le Mas des Confitures offers you a full range of sweetened products in order that the quality on your customer's table can be uniform, in dedicated formats from the room service to the buffet service. Our Haute Confitures, including a bio line, are composed of 70% fruit. They are cooked in very small copper basins, are very little sweetened and enhance the fruit and its texture.
Le Mas des Confitures positions itself as the supplier of french and also international five stars luxury hotels. From Paris to the Maldives, from Saint Barthelemy to Saint Tropez and also Miami, the greatest starred chefs from all around the world trust in our singular know-how.
Tailored Services for our Hotels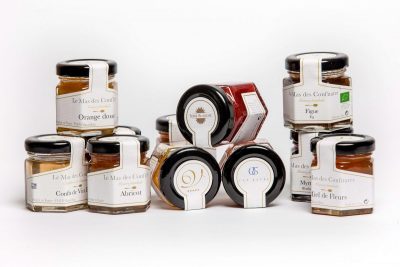 For your VIP gifts in bedrooms, we also offer customized gift boxes: an elongated box personnalized with your hotel's or your restaurant's graphic identity or based on an event in your city.. we are able to offer you the perfect gift that will please your customers.
Human-sized, our company and our flexibility allow us to adapt
to all your needs and requirements. Positioned at the antipodes of industrial products, we prove day-to-day that it is possible to associate homemade quality production with the requirements of prestigious hotels.